Our Procedure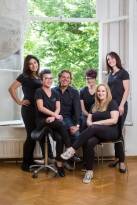 Salon Craft can deliver hair pieces or cranial hair prosthesis for chemotherapy patients within 24 hours.
The first informational consultation—by appointment—is complementary. In our private studio, we will discuss the appropriate hair solution that meets your needs. If you are housebound or in the hospital, we can visit you there. Using your existing hair style and color as a starting point, we will compile a selection from our large inventory with the best fitting, style, and colour for you. Our suppliers will be able to deliver this selection to us the next day.
The second visit will be a fitting to help you make the best choice for a hair solution that will look undetectable and natural. Bringing a friend or family member will often help make this process easier.
After you make a choice, we are able to make necessary adjustments instantly in our studio and, if needed, cut and style your piece with the latest techniques and trends.
It might be reassuring to know that you can take your wig or hair piece home that same day.
A third appointment—a few weeks after chemotherapy and/or hair loss— is optional. We will cut or shave your own hair and secure the wig, and address your concerns and questions, if any.