Phone: +31 43 3216433
Salon Craft,
since 1889
O. L. Vrouweplein 27
6211 HE Maastricht
opening hours
Tuesday - friday
9:30 - 18:00
Hair & Beauty Services for Women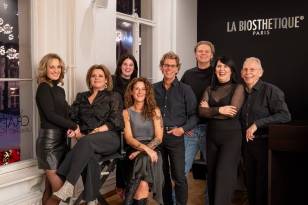 Pleasant sounds from the outdoor terraces, the linden trees spreading shade beneath their graceful canopies, the view of the 9th Century Basilica of Our Lady and the cobbled square. . . that is where Salon Craft is located. From the centre of the vibrant city Maastricht, enter the relaxing, luxurious oasis of Ladies First Floor.
A talented team of hair and beauty stylists will provide you with the highest quality of customer service. The first floor location ensures privacy and comfort.
Enjoy a variety of pampering treatments such as a custom makeover, the latest hairstyle, or other cosmetic services,such as epilation and eyebrow coloring. The quality products from the Parisian La Biosthétique brand, and its make-up collection also, address hair and skin problems with pure, effective and powerful natural ingredients.
The team on Ladies First Floor invites you for a truly unique client experience.